Ho Wah (Myrtle Beach)
Jump to navigation
Jump to search
Overview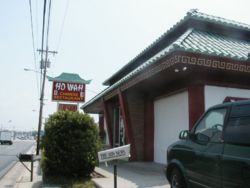 Ho Wah is a Chinese buffet restaurant in Myrtle Beach, SC.
Specs
Last update: 2006-06-15
Hours:

lunch buffet: 11:00 a.m. - 4:00 p.m.
dinner buffet: 4:00 p.m. - 10:30 p.m.
Open 7 days, 11:00 a.m. - 10:30 p.m.

Prices: lunch buffet $5.25, dinner buffet $8.95
Phone: 843-448-3321
Reviews
Hypertwins
We stopped at Ho Wah on our way out of town Thursday morning (2006-06-15); a seafood buffet was the first choice (because it was on the way), but that was closed.
The food was (surprisingly to us) quite good and the waitstaff were genuinely friendly. Some people might consider the darkness of the lighting to be a down-side, but it wasn't dark enough to be a problem for us. We seemed to be the only "tourists" there. The selection of Chinese-type food was better than many other buffets I've been to (mostly in Durham, NC and Athens, GA), and the selection of American-style food was also certainly no worse. My only (minor) complaint was the lack of hot sauce and dumpling sauce, but maybe it was hiding somewhere (I didn't ask).
Anyway... definitely recommended, if you don't mind saving money and eating something which is really good but is nonetheless not mostly fish whilst paying gobs of cash for the privilege of staying at the beach in the first place. --Woozle 11:28, 17 June 2006 (EDT)