The ArchiTECHS
Jump to navigation
Jump to search
Overview
The ArchiTECHS was a television show on The History Channel. Two pilots, one of which was broadcast, were filmed for a proposed series in which a team of innovators struggle to come up with unique design solutions under a suspenseful time limit.
The show was produced by Mod3 Productions [[W!]]: Danny Gold, Mathew Asner, Larry Herbst
Pilot #1: "Skyscraper Firefighting and Escape"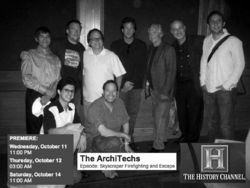 Premiere (2006-10-11 23:00): Wednesday October 11 at 11 PM
Repeat (2006-10-12 23:00): Thursday October 12 at 3 AM
Repeat (2005-10-14 11:00): Saturday October 14 at 11 AM
This show featured "five geniuses", including author-scientist David Brin, TV legend and designer Dave Stollery, visionary artist Tim Flattery and others "in a 48-hour quest to design better ways to escape and fight skyscraper fires."
Promotions for the show had this to say:
Five geniuses are challenged: innovate fire rescue and evacuation tools for skyscraper disasters... and do it in 48 hours! Watch a small team of designers and visionaries form a high-tech think tank, racing the clock to shape bold, over-the-horizon designs for the future. With unprecedented cooperation from New York's regional fire departments, episode #1 culminates in a dramatic presentation to Former FDNY Commissioner Thomas Von Essen, one of the heroes of 9/11...
Pilot #2: the humvee episode (title unknown)
This episode was filmed half a year earlier, at the U.S. Army National Training Center at Ft. Irwin, California, where a somewhat different and larger team of "geniuses" were charged (by 4 star General Paul Kern) with the task for "designing the next humvee." Result? A super bad-ass concept vehicle. This episode has not been broadcast and it is unclear, as of January 2007, whether there are any plans to show that episode or offer it on DVD.
Links
Reference