Hope Valley Service Center
Jump to navigation
Jump to search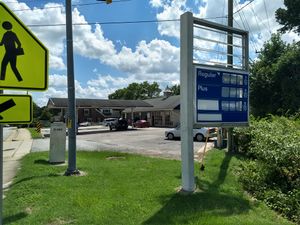 About
Hope Valley Service Center Inc. (aka a variety of similar #Names) is a small auto repair shop in Durham, NC. They have been in business, managed by the same family, since at least the late 1970s. They used to also sell gas (Mobil at first, then Exxon), but discontinued this in June or July 2020. The insurance alone was reportedly costing them over $10k per year, and gasoline sales had become negligible.[1]
Services include (this is anecdotal, so contact them directly to confirm):
Tires: install, balance, rotate, repair
Minor engine work, e.g. replacing coolant hoses
Brakes
Details of note:
No appointment is required.
They work on both domestic and foreign cars.
They have a semi-public air-pump, but it can be a little difficult to access.

...although this seems to have improved since they stopped selling petrol, as usage of the filling-up areas for storing vehicles has reduced parking congestion.
Names
Hope Valley Service Center - repair order on 2020-07-27
New Hope Valley Exxon - credit card receipt on 2020-07-27
when they still sold petrol:

Hope Valley Exxon
Hope Valley Exxon Service Center
Hope Valley Mobil
Contact
Address: 2800 Chapel Hill Road / Durham, NC 27707
Phone: 919-489-1639
Links
Photos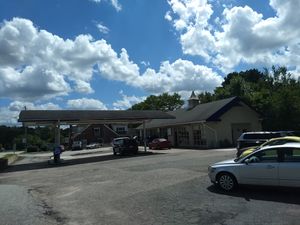 Footnote
↑

2020-07-27: Woozle, face-to-face conversation with HVSC employee